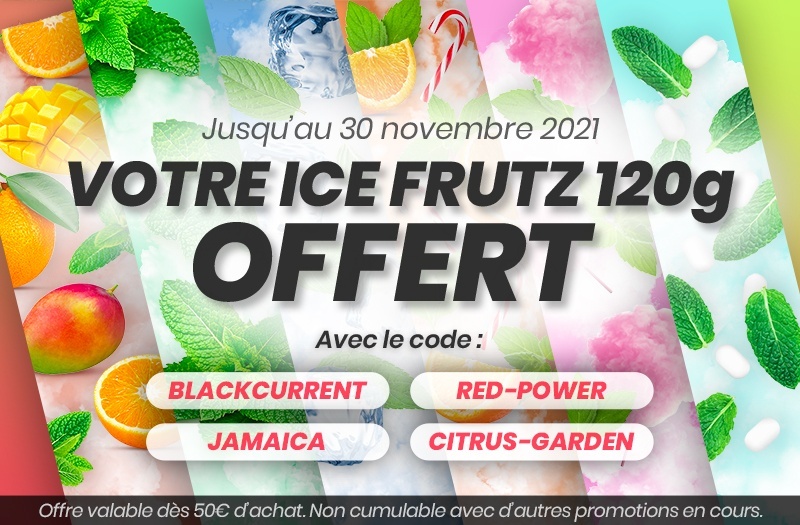 Hookah promo code, hookah discount : your free jar of Ice frutz jelly!
We end this eleventh month of the year with a crazy hookah promo code! To buy your hookah at the best price, there's no need to go looking for a hookah coupon on mareduc.com, radin.com, wanteed.com or another hookah promo site! We reveal to you every week directly on our blog and social networks the best promo codes of the moment to buy your favorite hookahs cheap!
This week, we offer you not one but 4 hookah promo codes! Discover our selection of hookah taste Ice frutz offered :
Discover our selection of ice frutz hookah flavor

A jar of blackcurrent ice frutz offered with the code BLACKCURRENT

A jar of Ice Frutz Energy Drink with the code RED-POWER
A free jar of harlequin flavoured ice frutz with the code JAMAICA
And a jar of ice frutz lemon, orange and grapefruit flavor with the code CITRUS-GARDEN...
This hookah offer is valid on all the products of the website (except current promotions). Order now your hookah charcoal, your hookah taste, new accessories or a new hookah for this special occasion! To take advantage of this offer, simply enter the desired code in the box "coupons" directly in your cart. Take advantage of it quickly, the offer is valid only until November 30, 2021.

*Offer cannot be combined with other current promotions. Offer valid while stocks last.