Where does the shisha tobacco found at "resellers" come from?
In France, a significant portion of the shisha tobacco consumed does not come from the network of tobacconists, which is theoretically the only place where retail tobacco sales are allowed. Given the drastic tax increases (50 grams of shisha tobacco generally cost around 12 euros at the tobacco shop) and the poor quality offerings in tobacco shops (low-quality brands, limited flavor choices), many shisha smokers turn to those euphemistically called "resellers." They usually operate on social networks like Snapchat, Facebook, or through messaging apps like Telegram, offering shisha tobacco at prices 10 times lower than those practiced by tobacco retailers and providing services such as delivery at any time. Some specialty shisha shops or neighborhood grocery stores also distribute shisha tobacco discreetly.
Shisha tobacco different from imported tobacco:
The shisha tobacco offered in these parallel networks significantly differs from what can be found in duty-free shops at international airports or in legal shops in Dubai or the USA. It is also not the same as the tobacco for sale in Spanish Estancos (which benefit from highly advantageous tax legislation, promoting their growth and the consumption of safe, perfectly traceable products).
The shisha tobacco offered by "resellers" is usually packaged in plastic bags or trays. It does not come with packaging, no original box, and is produced "artisanally" by the sellers. The explanation provided to customers is often that "this technique allows for retailing" from larger packaging, such as a kilo.
Significant shisha tobacco seizure in Germany in July 2023: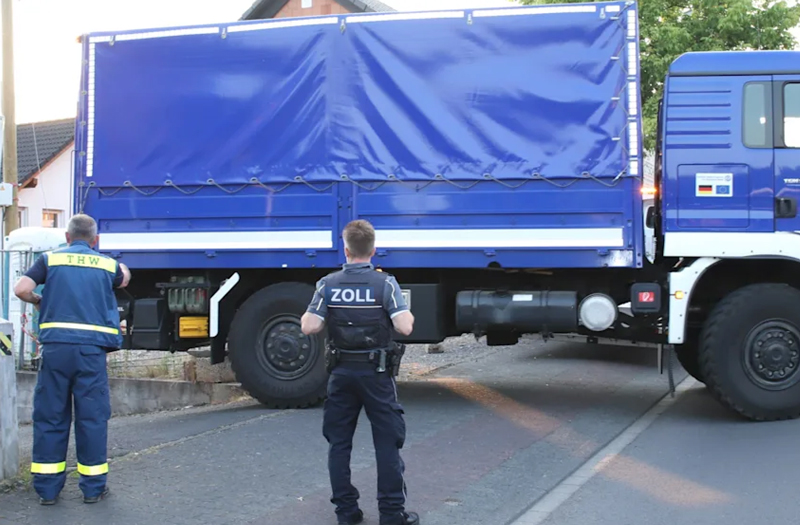 Recent seizures in Germany, however, shed light on the real origin of these goods, which generally do not come from the factories of American or Middle Eastern manufacturers they refer to. They are actually manufactured much closer to us, in the immediate vicinity of the destination markets.
German customs investigators recently achieved a major breakthrough by following their instincts during a tracking operation. A sweet and fruity scent filled the air as they arrived at the location, confirming their suspicions of possible illegal production of shisha tobacco.
The operation took place in Kreuztal, in the Siegerland region of North Rhine-Westphalia. Despite the sounds of work coming from a nearby garage, no one responded to the calls from the Dortmund customs officers, prompting them to forcefully enter the premises.
In the backyard, a variety of equipment was carefully prepared for transportation, highlighting the scale of the clandestine operation. To their surprise, the agents found two heavily soiled and bewildered men making shisha tobacco. The two suspects, aged 30 and 44, and originally from Syria, remained silent in the face of the accusations against them.
During the search, investigators found dozens of tubs filled with freshly prepared shisha tobacco, both in the production area and in an adjacent building. Additionally, significant quantities of raw tobacco, chemicals including glycerin, glucose blends, and flavors, as well as finished shisha tobacco, were uncovered.
Customs officers also seized boxes of Snus, a product prohibited in Germany, presumably counterfeit. Production equipment, all the necessary tools for manufacturing, and a VW Transporter vehicle were confiscated by the authorities.
Some of the tobacco had already been vacuum-sealed and packaged, suggesting a clear intent for illegal distribution. According to customs statements, this operation prevented an estimated tax fraud of 300,000 euros, highlighting the dubious quality of the seized shisha tobacco.
Subsequent investigations were entrusted to the Customs Investigations Office in Essen, highlighting the serious legal consequences awaiting those involved in this illicit trade. Selling tobacco products without tax stamps constitutes tax fraud, while acquiring them amounts to tax evasion. These offenses can result in prison sentences ranging from six months to ten years, as well as substantial fines, depending on the severity of the case. Authorities are determined to enforce the law and combat the illegal trade of shisha tobacco in Germany.
Reminder of the rules in force in France regarding shisha tobacco:
In France, to consume original shisha products with guaranteed origin, there are three possibilities.
- Tobacconists are authorized to offer approved products. However, their selection is limited, and prices are particularly high. Expect to pay nearly 12 euros for 50 grams of shisha tobacco.
- Importation from foreign countries is allowed (up to 250 grams). Therefore, you can buy shisha tobacco at advantageous prices during a stay in Spain or Dubai and bring it back with you.
- There are now shisha molasses for which nicotine is sold separately and, therefore, exempt from tobacco taxes, and their sale is not restricted to tobacconists. A product like WAYS tobacco offers the combined advantages of a very competitive price (starting at 19.90 euros for the version with nicotine), perfect traceability (these products are manufactured in compliance with prevailing standards), and a wide range of flavors.